Privately-Owned, as opposed to "Property Managed". We actually stay there annually ourselves, and we have made it into our complete home away from home. This means you will find everything in working order, and the space has been set-up in such a way to be usable. Extremely clean, well-organized, and uncluttered.
Rental Rates
Jan. 1 - Apr. 30
$3100 / Month
May 1 - Dec. 31
$2200 / Month
Available Discounts
Return renters
Multi-month discount
$100 off rental
$100 off each month
Utilities
Included
Minimum Stay:
One month* (see below)
Security Deposit
$1000
Returned within 14 days less damages
Credit Check Fee
$30
Waived if paying with credit card, a return renter, or have a recent rental reference
Cleaning Fee
$150
Per Stay. Fee also includes our inventory check & door key code change.
Please contact us at condo@oedes.com to inquire about availability. We appreciate you consulting our FAQ's page before asking questions. We have rented out this condo for 7 years, and we have posted the answers to many common questions here.

*Can I Rent For Less Than One Month?
No, we will not rent for less than a one month period of time. Back when we only had 2-weeks vacation, we would sign a one-month lease for a condo and only stay 2 weeks. Here's why:
All Scottsdale condo complexes are governed by the rules of their Homeowner's Associations (HOA's). We never stayed at a complex that allowed for anything less than a one-month rental, mainly because most of the complexes are mostly owner-occupied and owners do not like short-term renters moving in and out of their "neighborhood". As responsible renters we found this to be frustrating, but now as owners, we have a better appreciation for why most owners feel that there needs to be a one month minimal rental. When looking for a 2-week rental, we found that we had 4 different options to consider:
1.) Find a condo unit where the owner was not restricted by a one-month minimum stay that was also located in a neighborhood in which we wanted to rent. (We never found one.)
2.) Find an owner that was willing to risk a hefty fine for violating the one-month rule and rent for 2-weeks.
3.) Pay hotel rates for the equivalent period of time. We were shocked by the hotel prices for the area. For example, the 3-star La Quinta Inn and Suites, located about 2 miles away from our condo, will cost about $2650 for a 2-week period during the peak months of Jan.-Mar. If you are looking at a hotel with some grass that's not located right off of the noisy highway, you will easily pay double that price. And poolside, low-density resort environments (like that of our condo) are more expensive yet.
4.) Sign a condo lease for a month, paying the monthly rate, but only staying for the period that we could get away. This is the option we chose. While we paid only slightly more for a condo for the same amount of time, we more than made up the difference by not needing to eat so many meals out at restaurants, as we could easily cook with what was provided in the condo. We preferred the quiet community feel of the condos, we enjoyed the luxury of more space, and we made many friends over the years.
So, we cannot rent for less than a month, but you might wish to consider renting our condo for the entire month, even if you intend to occupy the condo for only a fraction of that time. We do refund any unused electrical expenses that we do not need to pay out when the unit is sitting empty (usually around $50 - $100, depending on season). But, just to be clear, the lease term will be for the complete month.
Thanks again for your interest in our condo. We think it would offer you a great value, even for your shorter vacation stay. Whatever you decide, best of luck in finding a place that works for you. Scottsdale is a wonderful place to visit!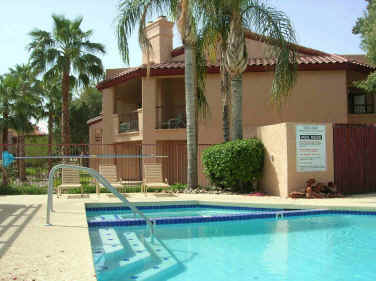 The foreground shows the pool, and just behind that is the Jacuzzi. Our condo is the second floor end-unit you see in this picture. All that's missing is you!