If you feel like playing instead of relaxing, there are many things to do in and around Scottsdale. The condo is located near fine dining, various spas, tons of shopping, and various medical facilities (including the Mayo Clinic). Walking and biking paths are just minutes away. Enjoy a round of golf at one of 100 golf courses in and around Scottsdale. Go fishing, boating, or jet skiing at nearby Saguaro Lake or Canyon Lake. Hike Camelback Mountain, or go white water rafting down the Salt River. Located just minutes from the new 101-loop, Old -Town Scottsdale and fine art galleries are just minutes away.
To get to and from the airport (about 20 minutes away) if you do not have a car, we recommend Super Shuttle.
For our own stays in Scottsdale, we take the Super Shuttle, and then we walk to the nearby Budget car rental located at Fry's grocery store at 90th and Shea---about a mile away. This is vastly less expensive than renting a car at the airport. Typically, we just rent cars for the weekends, as there is simply so much to do within walking distance in and around the Villages complex.
Our favorite daily, completely free, activity is going for a 6-mile walk or bike ride along the nearby Greenbelt. Access to the multi-use pathway is less than half-a-mile away, and you only need cross one side street to get there. (Minimal contact with traffic as a pedestrian is highly desirable). You can go for miles without any contact with traffic as you wind through miles of beautifully landscaped parks, lakes, duck ponds, golf courses, picnic areas, etc. It makes for a perfect way to begin or end your day in Scottsdale.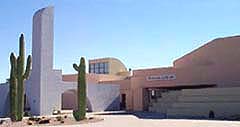 Mustang Library-- within easy walking distance
This is a great library! Great Wi-Fi zone. They offer special library cards for winter visitors.
A few other sources for ideas: